Liposuction in Los Angeles is a popular treatment if dieting and exercising didn't work to lose those extra fats in your body. And even though you have lost weight, certain areas of your body won't shape up. And this is why many celebrities opt to undergo liposuction. It's a powerful body contouring tool that helps you achieve results. Most of all, it's minimally invasive. 
This procedure is an effective way to get rid of those pockets of fat in your body. These fat cells are resistant to dieting and regular exercise. It means that no matter how hard you try to diet and exercise, the fat cells in those areas just won't go away. 
With liposuction, you will lose those fats. But how many inches or pounds of fat can you lose in this procedure? It depends. But you can lose up to 5 liters of fat. However, you must consider that liposuction isn't about the number of fat. Rather, it's about the results you want to achieve that will help you look great. It can get rid of the excess fat that has been bothering you for many years. When these frustrating spots have been eliminated, your body will look fitter and sexier. 
However, if you're overweight, liposuction isn't the answer to help you lose weight. You need to follow a weight loss program, like a strict diet and strenuous exercise. Remember that lipo isn't a weight-loss tool. Rather, it's a procedure that removes excess fat. But after removing the extra fat, you may lose weight. 
However, just because you wish to lose those pounds of fat from your body, doesn't mean that you can be an ideal candidate for this procedure. Contact our cosmetic surgeon today to schedule a consultation. During the initial meeting, you will know whether or not this procedure is ideal for you. 
If not, Dr. Augusto will recommend other treatments that will fit your situation. If you're obese, you will have to lose weight first. You should also quit smoking and stop drinking alcohol a few weeks before the procedure. Keep in mind that these nasty habits can affect the results of liposuction.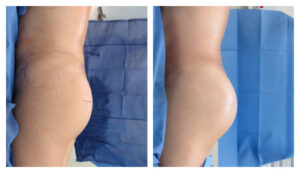 What Parts of Your Body Can Be Treated? 
It can be used all over your body since it's a versatile treatment. In that case, you can undergo this procedure to remove excess fat from your thighs, flanks, back, arms and buttocks. This procedure can also be used in sensitive areas, such as the neck and face. 
Regarding the recovery, you can return home on the same day of the procedure. However, you may have to spend a few days resting before you can go back to work. You also can't exercise. But you can do walking and yoga a few days after the procedure. Then, a compression garment must be worn after a week or two. Are you interested to undergo liposuction in Los Angeles? Schedule an appointment with our cosmetic surgeon by calling (310)-391-7143.