Vaser in Los Angeles is a popular treatment that involves the removal of fat deposits under the skin. Many Hollywood celebrities are opting for it to help them achieve lean abdominal muscles. This form of liposuction breaks fat cells apart and loosens them so that the fats are removed more effectively. In a way, you will lose weight in the process when the excess fats are removed. But is it a tool to lose weight? 
Can You Choose
Vaser in Los Angeles
as a Method to Lose Weight? 
Unfortunately, it's not a weight-loss tool. You have to be within 15 pounds of your ideal weight to be considered for this procedure. This treatment is only recommended for people who wish to spot-treat fat deposits to reveal their muscle tone under it. In that case, before you even consider this treatment, you need to lose weight first. Consult our cosmetic surgeon in Los Angeles, Dr. Augusto Rojas, to know if you can undergo this procedure. 
VASER is a unique procedure as it allows Dr. Augusto to be extremely precise in the way he removes the excess fats in your body. The procedure may still cause pain but it's not excruciating. It just disrupts the link between your fatty tissue and the muscles underneath the skin. You may still feel pain but it's tolerable. You don't have to stay in the hospital to recover. You can go home after the procedure. Since it's still an invasive procedure, albeit minimal, you need to be put under general anesthesia. Depending on your situation, Dr. Augusto may put you under conscious sedation. After sedating you, a saline solution will be injected into the targeted area. In that way, it'll be easier for the cosmetic surgeon to insert the ultrasound probes into your skin. 
Dr. Augusto will still make a small incision in your skin to insert the probe. Once the probe is inside the skin, Dr. Augusto will start breaking up the fatty tissue. When the fatty tissue has been broken apart, it'll be vacuumed out. Although most of the fluid in the process will be removed, some will be left to numb the pain after the treatment. Don't fret because your body will absorb it. 
Which Parts of the Body Can Undergo Vaser? 
This form of liposuction can be used to remove fatty tissue from the arms, chin, upper back, waistline, neck, hips and thighs, and buttocks. But it's commonly used in removing excess fats from the abdomen to make it easier to reveal 6-pack abs. 
How to Prepare for this Procedure? 
VASER is a low-risk form of liposuction. But you still have to prepare for it.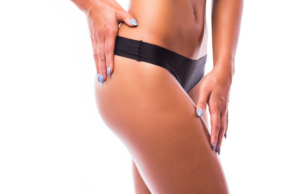 You can't just visit Venice Beach Surgical Center and undergo this procedure without first making an initial consultation with our cosmetic surgeon.
Dr. Augusto Rojas will first review your medical history, take note of your medications and examine you thoroughly. 
If you are ready to undergo VASER in Los Angeles, call Venice Beach Surgical Center today for your initial consultation. Please dial (310)-391-7143.