FLY IN PROGRAM JUST FOR YOU!
We have the fly-in program designed just for you, making it possible for all patients to manage their surgery needs. We are located just minutes from LAX (Los Angeles Airport), so you can fly-in alone or with loved ones, and we will walk you through a process that will ensure complete care and a comfortable, pleasant experience. Feel Beautiful and go back home feeling amazing!!!
---
Step One:
1. The Initial ContactFly-In For a Personal Consultation and Exam This is ideal for the person who can afford to travel and/or who prefers to meet with the doctors and staff before making any decisions.


2. Or Receive a Virtual ConsultationDesigned for the out-of-town person who can't make it into the office, or who wants to receive a consultation from the comfort of home. Learn more about the "Virtual Consultation". Once our surgeons determine if you are a good candidate for surgery, you will be contacted by our Patient Coordinator. She can discuss the fees and other expenses as well as suggest hotel and/or post-operative care accommodations.
Step Two:
Surgery SchedulingOnce you have determined that you wish to proceed, the scheduling process begins. Your first appointment should take about 2 hours and will be spent in our office covering physical examination, pre and post-operative instruction, and review and signing of all consents.Typically, fly-in patients stay in Los Angeles for approximately 7 to 10 days after surgery.
---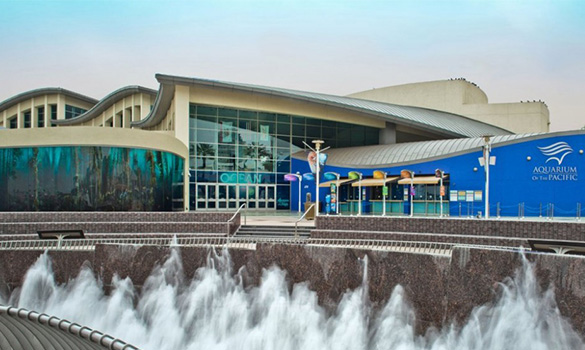 Aquarium of the Pacific
562.590.3100 | 100 Aquarium Way, Long Beach
Drive Time (approximate): 15 miles/30 minutes
www.aquariumofpacific.org
Located on five acres of waterfront property in downtown Long Beach, the Aquarium of the Pacific features marine life of the Pacific Ocean. More than 47 exhibits represent more than 500 species.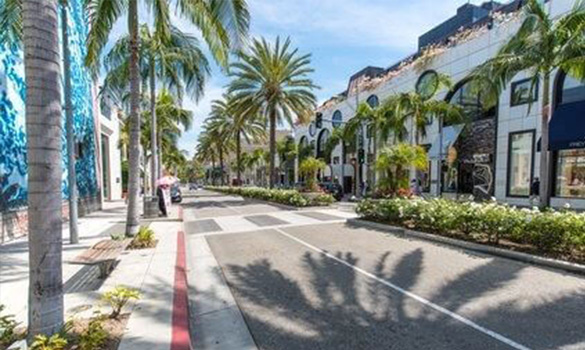 Beverly Hills
310.285.2442 | Trolley Hotline
Drive Time (approximate): 25 miles/45-50 minutes
www.beverlyhills.org
Take a ride through Beverly Hills on a 40-minute narrated tour of art, architecture, historical and renowned areas of the city.
---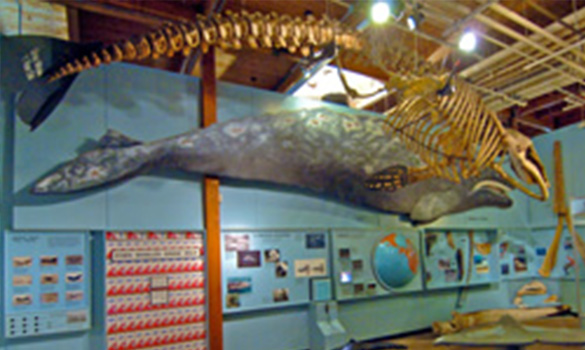 Cabrillo Marine Aquarium
310.548.7562 | 3720 Stephen White Drive, San Pedro
Drive Time (approximate): 7 miles/14 minutes
www.cabrillomarineaquarium.org
Learn about the natural history of the area through live exhibits. Beach walks and classes are held all through the year. From March to August, during the full or new moon, you can participate in a Grunion run. The admission is free.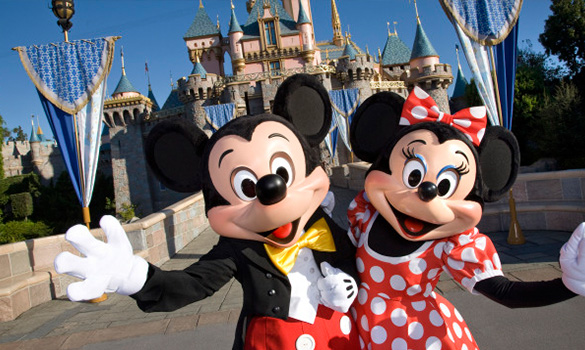 Disneyland and Disney's California Adventure
714.781.4000 | 1313 S. Harbor Boulevard, Anaheim
Drive Time: (approximate): 40 miles/45 minutes to an hour
www.disneyland.com
"The Happiest Place on Earth," Disneyland has stood as an icon of magical storytelling for decades. No trip to Southern California would be complete without a visit to Disneyland. Disney's California Adventure theme park is a magical festival of shows, parades and attractions celebrating California's storied past and exciting future.
---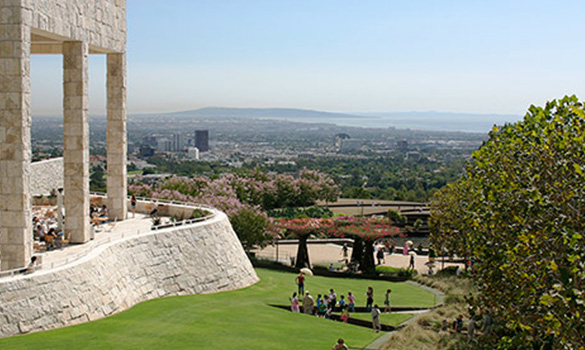 Getty Center
310.440.7300 | 1200 Getty Center Drive, Los Angeles
Drive Time (approximate): 32 miles/40-45 minutes
www.getty.edu
Designed by one of America's celebrated architects, Richard Meier, the Getty Center showcases paintings, drawings, sculptures, illuminated manuscripts, and French, European and American photographs. The astonishing permanent collection includes Van Gogh's Irises, as well as paintings and drawings by Rembrandt, Monet, Manet, Renoir and Cezanne.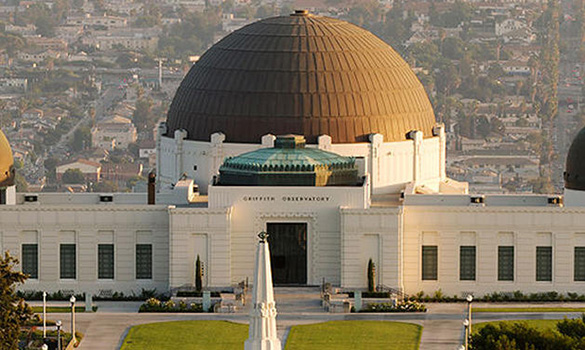 Griffith Observatory
213.473.0800 | 2800 E. Observatory Avenue, Los Angeles
Drive Time (approximate): 38 miles/45-50 minutes
www.griffithobs.org
Griffith Observatory's unique architecture and setting, compelling programmatic offerings, and Silver Screen cinematic exposure have made it one of the most famous and visited landmarks in Southern California.
---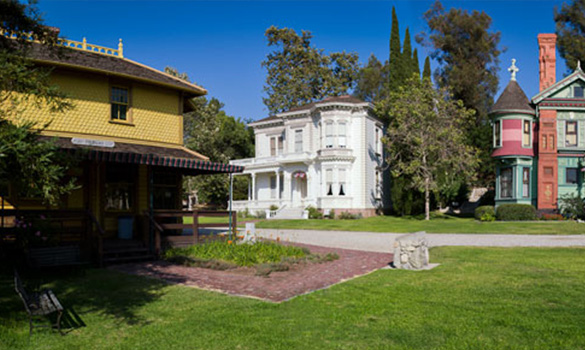 Heritage Square Museum
323.225.2700 | 3800 Homer Street, Los Angeles
Drive Time (approximate): 30 miles/40-45 minutes
www.heritagesquare.org
A living history museum reflecting the settlement and development of Southern California from the Civil War to the early 20th Century, Heritage Square Museum offers visitors a look into the everyday lives of Southern Californians at the close of the 19th Century.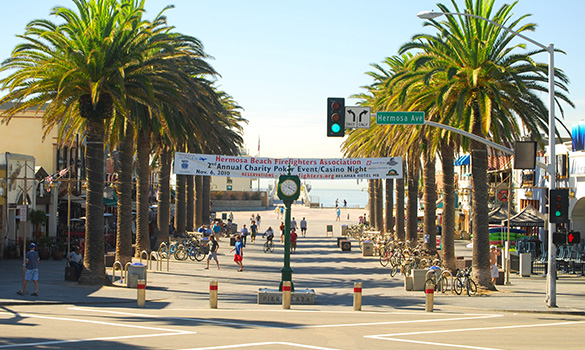 Hermosa Beach
www.hbchamber.net
The city's flat, sandy beach is ideal for sunbathing, beach volleyball, surfing and paddle boarding. Pier Avenue offers a thriving concentration of restaurants and nightlife.
---
Hollywood
Drive Time (approximate): 38 miles/50 minutes to 1 hour
www.hollywoodchamber.net
Match your hand and footprints with over 170 screen legends such as Clint Eastwood and Marilyn Monroe in the courtyard of the most famous movie theatre in the world, Mann's Chinese Theatre. Hollywood offers a multitude of exclusive boutiques, gourmet restaurants and of course the Kodak Theater, home of the Academy Awards.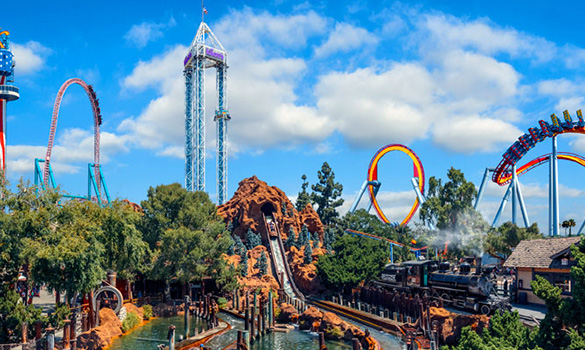 Knott's Berry Farm
714.220.5200 | 8039 Beach Boulevard, Buena Park
Drive Time (approximate): 35 miles/45-55 minutes
www.knotts.com
The gang's all here! Snoopy, Charlie, Lucy and Linus await your arrival to a world of fun and fantasy at every turn. From high-flying rollercoaster rides to whimsical characters and yummy eats, Knott's Berry Farm is a rockin' realm of entertainment just waiting to be discovered.
---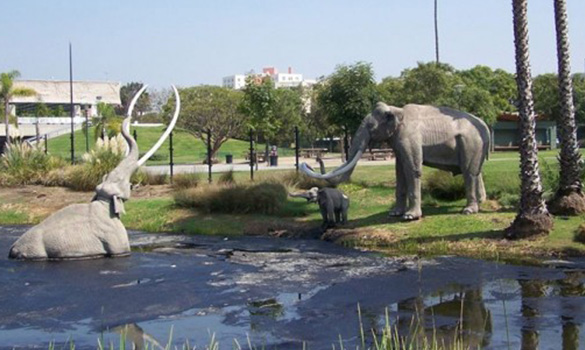 La Brea Tar Pits
323.934.7243 | 5801 Wilshire Boulevard, Los Angeles
Drive Time: 21 miles/45-50 minutes
www.tarpits.org
Rancho La Brea is one of the world's most famous fossil localities, recognized for having the largest and most diverse assemblage of extinct Ice Age plants and animals in the world. Visitors can learn about Los Angeles as it was between 10,000 and 40,000 years ago, during the last Ice Age, when animals such as saber-toothed cats and mammoths roamed the Los Angeles Basin.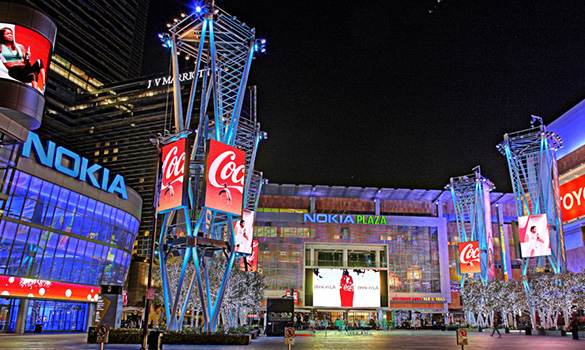 L.A. LIVE
800 W. Olympic Boulevard, Los Angeles
Drive Time (approximate): 25 miles/45-55 minutes
www.lalive.com
As a one-of-a-kind entertainment campus, L.A. LIVE is a genuine world-class sports and entertainment destination.
---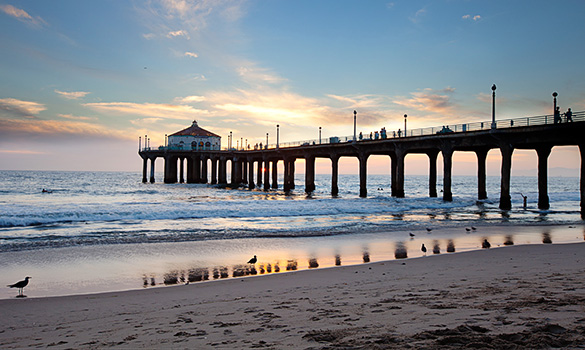 Manhattan Beach
www.manhattanbeachchamber.net
Manhattan Beach is the home of volleyball and surfing. The quaint downtown area offers an eclectic array of boutiques, shops and restaurants. An attractive aquarium sits at the end of the expansive pier.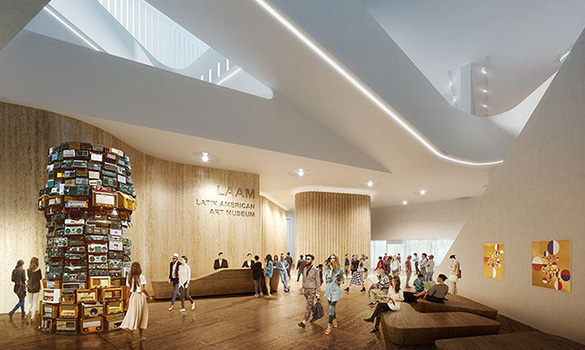 Museum of Latin American Art
562.437.1689 | 628 Alamitos Avenue, Long Beach
Drive Time (approximate): 15 miles/30 minutes
www.molaa.org
Dubbed as "more than just a museum," the Museum of Latin American Art is the place to come if you're interested in Latin American artwork. It displays works by artists which date from World War II to recent years.
---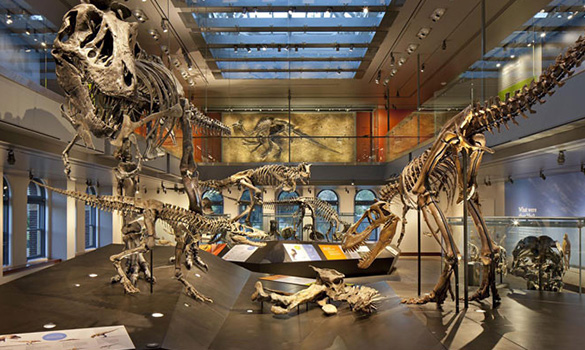 Natural History Museum of Los Angeles
213.763.3466 | 900 Exposition Boulevard, Los Angeles
Drive Time: 21 miles/45-50 minutes
www.nhm.org
Visit one of the world's most extensive and valuable collections of natural and cultural history. As the largest natural and historical museum in the Western United States and an active research center, NHM safeguards more than 35 million spectacular, diverse specimens and artifacts covering 4.5 billion years of history.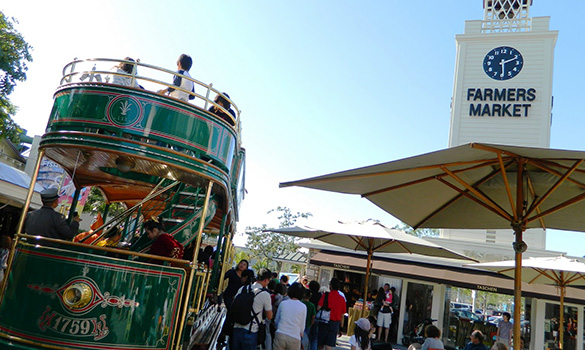 The Original Farmers Market
3rd Street and Fairfax (Los Angeles)
Drive Time (approximate): 35 miles/50 minutes to 1 hour
www.farmersmarketla.com
The Original Farmers Market remains the number one tourist destination in Los Angeles. Offering visitors international cuisine, a wide range of gifts from around the world, regularly scheduled special events for the family and outdoor flavor, not to mention the freshest and finest meats, poultry, seafood, produce and flowers in all of Los Angeles County.
---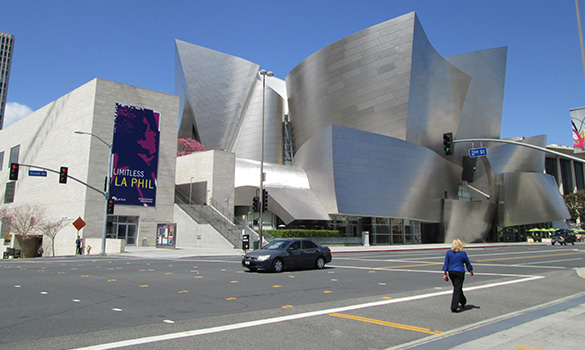 Performing Arts Center of Los Angeles County
213.972.7211 | 135 North Grand Avenue, Los Angeles
Drive Time (approximate): 25 miles/45 minutes
www.musiccenter.org
Located in the heart of downtown Los Angeles, the Music Center is one of the three largest performing arts centers in the nation and welcomes more than 1.3 million people each year. The Center isn't limited to performances, offering visitors great architecture, tours, museums and restaurants.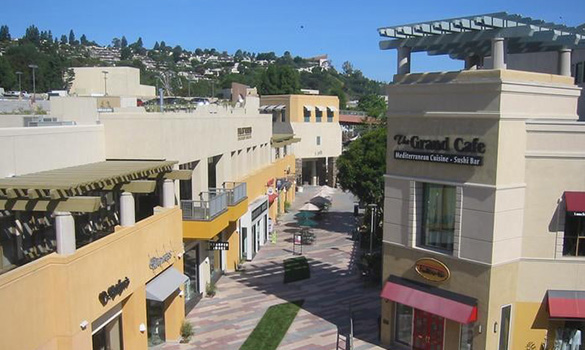 Promenade on the Peninsula
310.541.0688 | 550 Deep Valley Drive, Rolling Hills Estates
Drive Time (approximate): 7 miles/11 minutes
www.promenadeonthepeninsula.com
Promenade on the Peninsula is a Spanish-style, three-level, open-air center with more than 50 name brand and boutique specialty stores and restaurants, including Borders Books & Music, Equinox Fitness Club & Spa, the Ice Chalet ice skating rink and a state-of-the-art 13-screen Regal Cinemas Theater. The pedestrian-friendly center invites shoppers to stroll among shops, colorfully tiled stairways and pop-up fountain beneath beautiful sky views.
---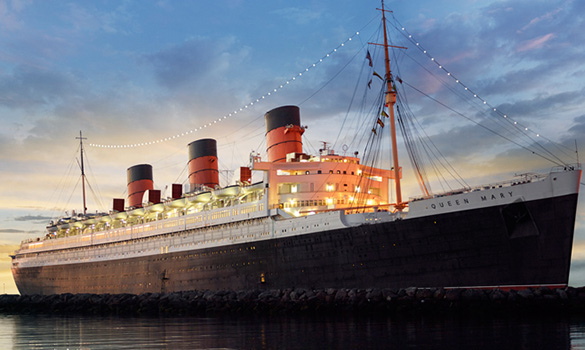 Queen Mary
800.437.2934 | 1126 Queen's Highway, Long Beach
Drive Time (approximate): 15 miles/30 minutes
www.queenmary.com
Come aboard the legendary Queen Mary and see restored areas that have been under wraps since the final voyage in 1967, including the Isolation Wards and the aft Machine Rooms.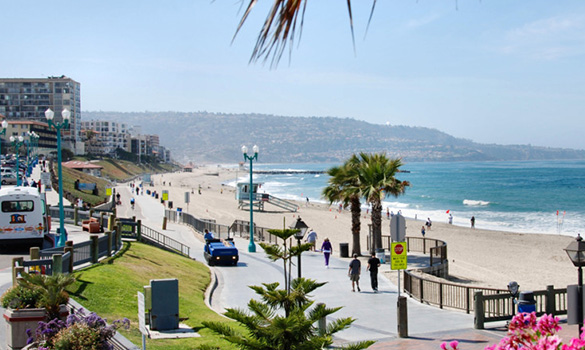 Redondo Beach
Drive Time (approximate): 4 miles/10 minutes
www.redondochamber.org
The Strand, a paved path that runs from South Redondo north to Santa Monica, is a haven for beach goers, bicyclists, skateboarders, and rollerbladers enjoying the sun and surf. Beach volleyball is another important aspect of Redondo Beach's lifestyle.
---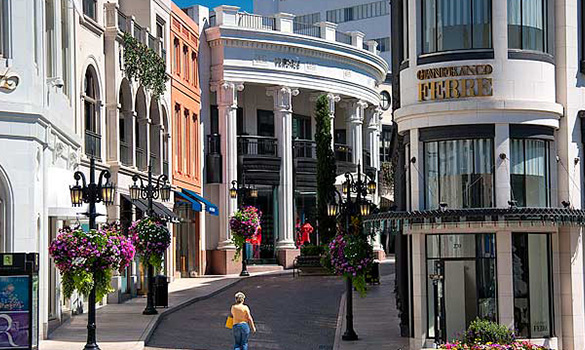 Rodeo Drive
Drive Time (approximate): 25 miles/45-50 minutes
www.rodeodrive-bh.com
This California shopping district is famous for designer labels and haute couture fashion.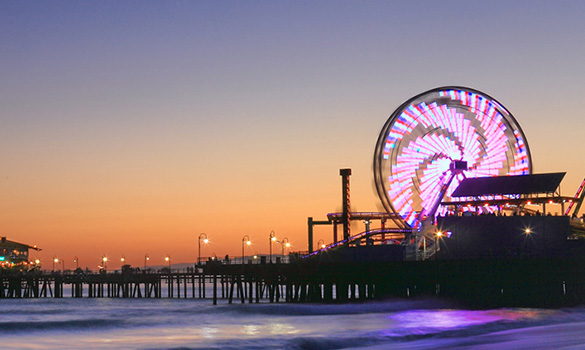 Santa Monica
310.458.8900 | 200 Santa Monica Pier, Santa Monica
Drive Time (approximate): 31 miles/40-45 minutes
www.santamonica.com
Nowhere embodies the spirit of Southern California quite like the sandy beach of Santa Monica and world famous Santa Monica pier. Since 1909 the Pier has been serving up beachside fun to visitors from across the globe seeking the quintessential California experience.
---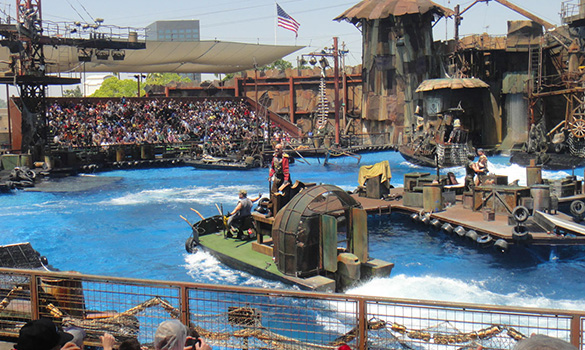 Universal Studios Hollywood
818.717.1000 | 70 Universal City Plaza, Universal City
Drive Time (approximate): 40 miles/45 minutes-1 hour
www.universalstudioshollywood.com
From the blazing infernos of red-hot explosions to jump-out-of-your-seat thrills of great white shark attacks, Hollywood is ablaze in scintillating movie magic crafted from the firing synapses of the world's most creative minds.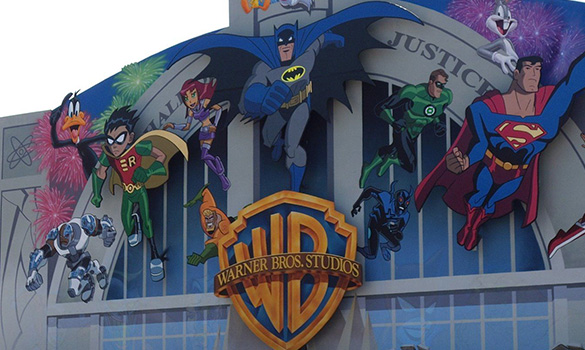 Warner Bros. VIP Studio Tour
818.972.8687 | 3400 Riverside Drive, Burbank
Drive Time (approximate): 42 miles/50 minutes
www.warnerbros.com
See "behind-the-Scenes" and "into-the-scenes" of your favorite shows and movies at the world's busiest motion picture and television studio.