If you are dissatisfied with the natural shape of the lips that you were born with, then there is no reason in today's modern cosmetic landscape that you shouldn't feel free to make a change for the better! Something that various brands of fillers are particularly good at is aiding with high-quality lip augmentation, in no time at all, and with very little recovery or downtime, you can have the lips of your dreams at a relatively affordable price these days! With all of this in mind, here is a 101 guide to fillers and lip augmentation in Los Angeles.
How Do Fillers Work?
Dermal fillers are made from a hyaluronic acid solution that is injected into areas of the face in order to add volume, plumpness, and overall better symmetry. Specifically for lips, the fillers can enhance shape and structure, providing you with a more defined and desirable pout. The needles that are used are very small, which means that the treatment can be extremely precise and detailed regarding which parts of your lips are affected.
What Are The Benefits Of Lips Fillers?
The benefits of getting lips fillers will be obvious for anybody who has ever had issues with the natural shape or volume of their own lips. Not only can filler help to change the physical appearance of your lips, but the mental impact that such a transformation can have is also invaluable. If a small treat like a lip filler can boost your self-image and self-confidence, then it is worth every penny. Lip fillers can also be used to address any problems in the lip area that have been caused by injuries and lasting skin tissue scarring. Symmetry can be restored and different textures can be evened out.
What To Expect From The Procedure?
The first thing that will happen is that the areas you are getting injected into will be treated with a numbing cream to minimize any discomfort. Once sufficiently numbed, a small needle will be used to inject the filler solution into the relevant parts of the lip. This process takes just minutes, and you will start to see the difference almost immediately. The great thing is that no downtime is required, you are free to go about the rest of your day!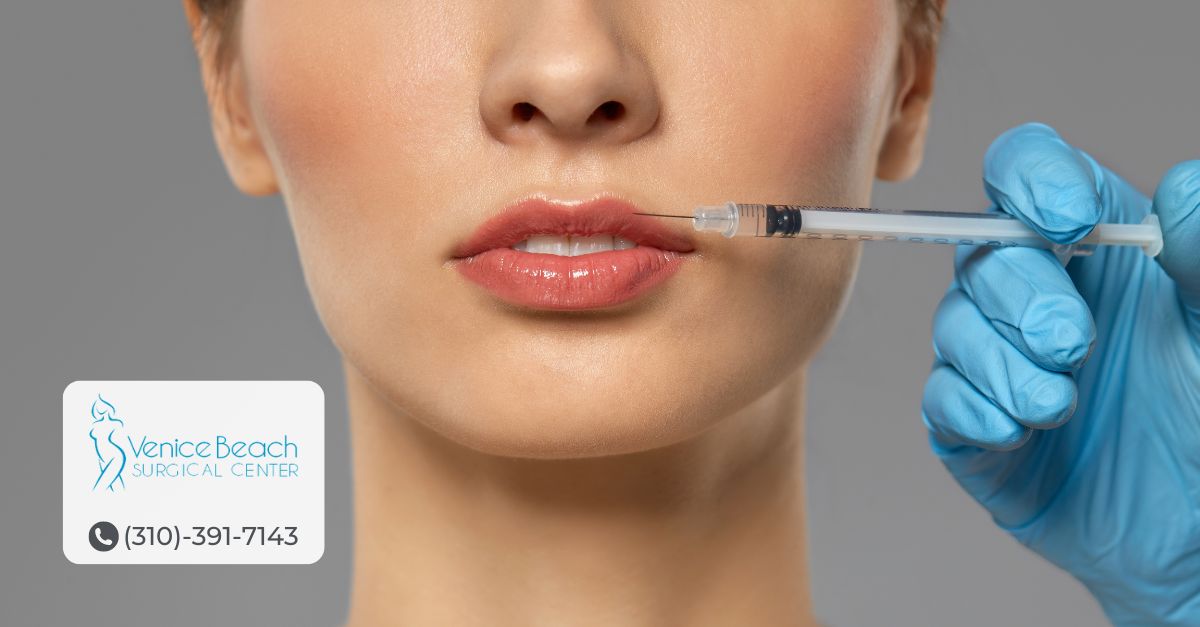 Are There Any Side Effects?
Lip fillers are one of the safest kinds of cosmetic procedures you can have these days, but there might be a few mild side effects such as bruising, swelling, or redness at the injection sites. These symptoms can be treated with over-the-counter painkillers, and usually go away in no time at all!
If you are interested in exploring your own options for lip augmentation in Los Angeles, then feel free to book an initial consultation with Dr. Rojas at the award-winning Venice Beach Surgical Center. Dr. Rojas and his team of expert professionals are vastly experienced in everything related to lip augmentation and are ready and waiting to answer any questions that you might have regarding the procedure. We look forward to meeting you!