Choosing among the best liposuction doctors in Los Angeles can feel like a daunting and overwhelming task. With so many to decide between, it can feel like you'll never be able to make the right decision. That's why it's always a good idea to understand your options and know what makes a cosmetic surgeon a good one. The right one for you might be different than someone else and several factors play a role in who you ultimately choose. This is a big decision, so you should definitely give it some thought and avoid jumping into it too quickly. Here's how to choose among the best liposuction doctors in Los Angeles for your procedure.
The Best Liposuction Doctors in Los Angeles are Board Certified
One of the first things you should look for is whether or not a doctor is board certified. This certification tells you that he or she has trained to perform liposuction and is qualified to do the procedure. Without this certification you can't be sure the surgeon you've chosen has had enough practice with the procedure and you may end up with results you aren't happy with and the risk of complications is higher as well. The first question you should always ask a potential cosmetic surgeon is if he or she is board certified by the American Board of Cosmetic Surgery. If not, move on.
Ask About Experience with the Treatment You Want
When you choose a surgeon to do your liposuction, you want to make sure he or she is experienced with the procedure and knows how to do it properly. You will want to ask if the surgeon has trained in liposuction, how many years' experience he or she has with it and how many times he or she has done the actual treatment. Ideally, this will be extensive so that you know the person you've chosen knows what they are doing and will do it well.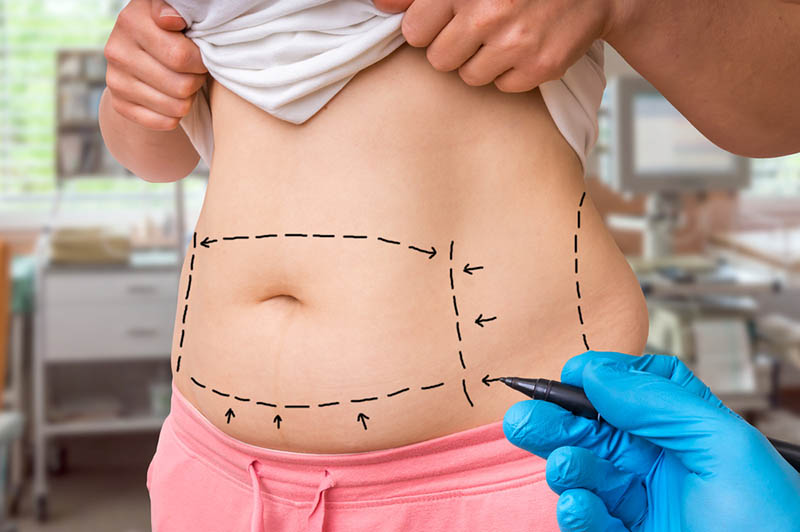 Look at a Surgeon's Before and Afters
Your sense of what looks good might be different from someone else's so it's always a good idea to look through cosmetic surgeon's before and afters so that you can get a sense of their work and whether it aligns with what you're hoping to get out of your liposuction treatment. Look specifically at the results of previous patient's liposuction results so that you can see if they are something you'll be happy with. You can certainly ask around to other who have had the procedure, but the only way to know for sure if you're choosing the right surgeon is if you see exactly what you can expect before you undergo the treatment.
Interact with the Staff to Assess Comfort Level
The right surgeon should make you feel comfortable and that includes the entire staff that works for him or her too. Visit the facility or clinic so that you can get a sense of how you feel around the employees. Ask yourself if you feel good there, if you feel like you can trust the surgeon and the staff to help you make the best choice, whether you feel comfortable sharing personal information and whether you're comfortable asking questions about the treatment. If the answer to these questions isn't "yes," it's definitely a good idea to keep looking until they are. You want to be at ease with the clinic so that you are able to get the most out of your liposuction so make sure you do before you make the decision to move forward.
Look Into the Facility's Safety and Accreditation
Unfortunately, in many cases the government doesn't always regulate a clinic and its staff so it's up to you to make sure it's a safe place to have liposuction and that your health and well being isn't at risk. Make sure the staff and surgeon are certified and that the facility is accredited, which tells you they have been checked out and deemed safe. If you can't find this information or no one will share it with you, move on right away.
Get a Feel for the Facility's Customer Service
Customer service is an important part of your cosmetic surgery experience. You need to be treated well right from the start and know that you can rely on the facility to meet your needs and take good care of you. The staff should be friendly and helpful, willing to give you materials to inform you about the procedure before, during and after, as well as offering you an accurate quote for the treatment right from the start. A prompt reply to messages left at the clinic or emails sent is another indication that you've chosen the right facility.
The right surgeon is the most important part of your liposuction treatment so it pays to be sure you've done your research and found the right one for you. It may take a bit of time, but it will be completely worth it. You are always welcome to call Dr. Rojas at (888) 598-0620 and clarify all your concerns.